Search for Speakers by Topic
.
The Business Speakers Bureau is your key resource for speakers, professional quality entertainment, and the latest technology for meetings and events.


It's Time To Make Your Event an EXPERIENCE! not just another meeting
Projections for 2023 IN-PERSON MEETINGS ARE EXPECTED TO Reach 70% of NORMAL PRE-PANDEMIC LEVELS – WA HOO! we are back!!!
People are excited to get back to in-person events. The virtual ZOOM meetings were a great substitute but they just didn't bring the excitement and relationship-building of live events that we were used to with In-Person events.
Attendees want to meet and connect but they also want to have an EXPERIENCE, not just a meeting and exchange of information. To create an EXPERIENCE everyone has to be actively involved and engaged.
How are you going to do that?
Meet "Marvelless Mark" Kamp – the EXPERIENCE Maker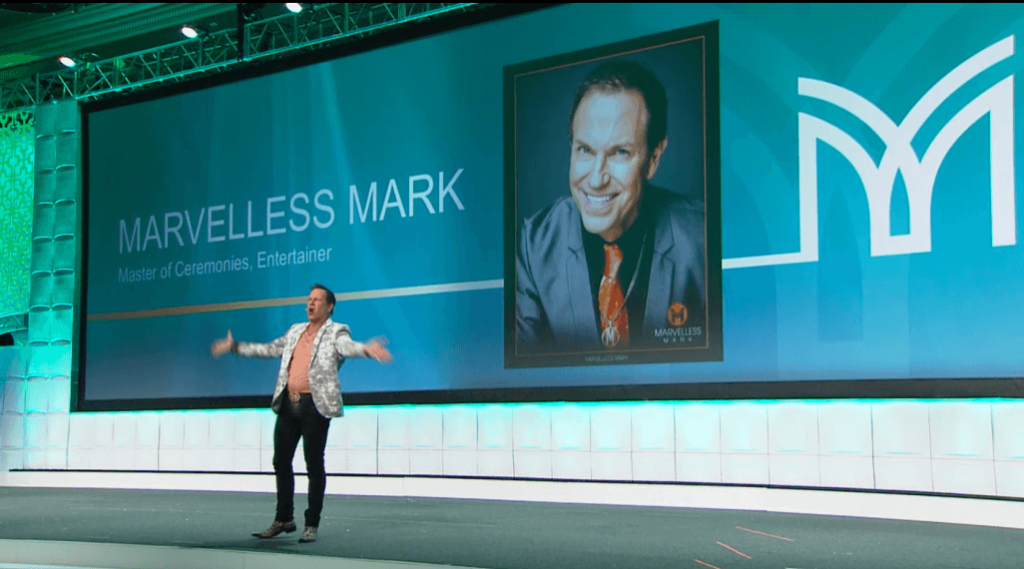 His name says it all…say it out loud and it is "MARVELOUS"! If you want to energize, engage and empower your audience to develop a rock star mindset and significantly up their level of performance, then let Mark, "The Business Rock Star" show you how to do just that. No one else in the industry is doing what Mark is doing. He is unique, effective, and results-driven.
How do you take good leaders and make them great? How do you take great leaders and make them Rock Stars? What got you here won't get you there. You must unleash your inner rock star and create the culture to perform at a peak level every day and think differently. It's called the Rock Star Mindset.
Get energized, engaged, and learn new strategies to build Rock Star Teams. Marvellous Mark will give you four solid rock star success principles in an interactive and engaging EXPERIENCE! You will leave with new, easy-to-apply, understandable strategies and tactics that will show you how to perform at a higher level. drive change, work more efficiently in teams, and take daily massive action.
Mark's presentation is spot on for opening and closing sessions or hard-to-fill spots.
Leadership, Peak Performance 10x Thinking, Creating Change, Team Work, and Accountability all in a Rock Concert keynote presentation. With the built-in drumming element that will release massive amounts of dopamine and oxytocin, your attendees will leave inspired, feeling great, pumped up out of their minds, and ready to take action. Mark's presentation also qualifies as a health and wellness program.
Mark's content has been featured on ABC, NBC, CBS, FOX, E-News, and HBO Max.
And to keep the learnings top of mind, each participant will head home with their very own conference-branded drumsticks, adding a continuing emotional connection to the message. It is the very definition of ROI.
Mark Kamp's keynote experience is the product of meticulous research not only on rock music and its stars but also on best business practices both inside and outside the music and entertainment world. Mark has researched nearly 100 of the most successful rock stars, their bands, and music industry experts. He draws on their expertise to help business leaders and organizations understand what makes them so successful and how they can easily adapt these proven strategies to any industry.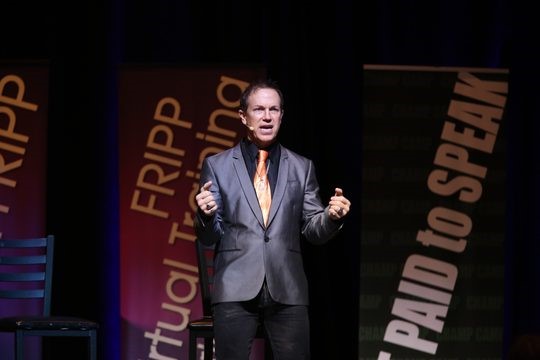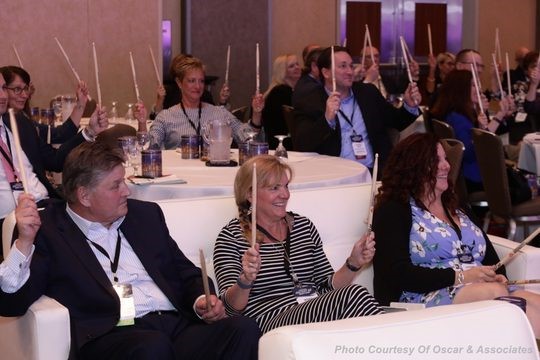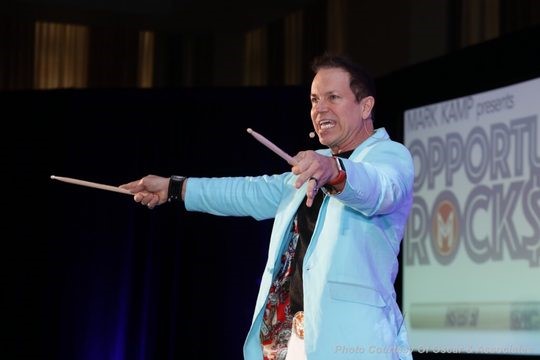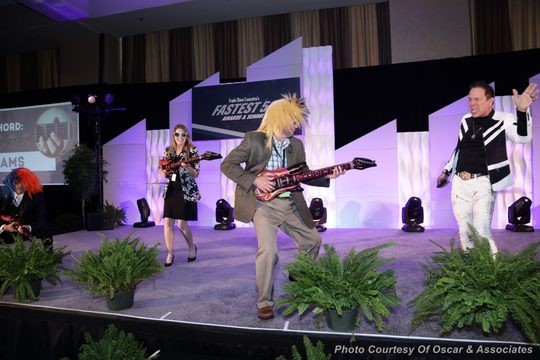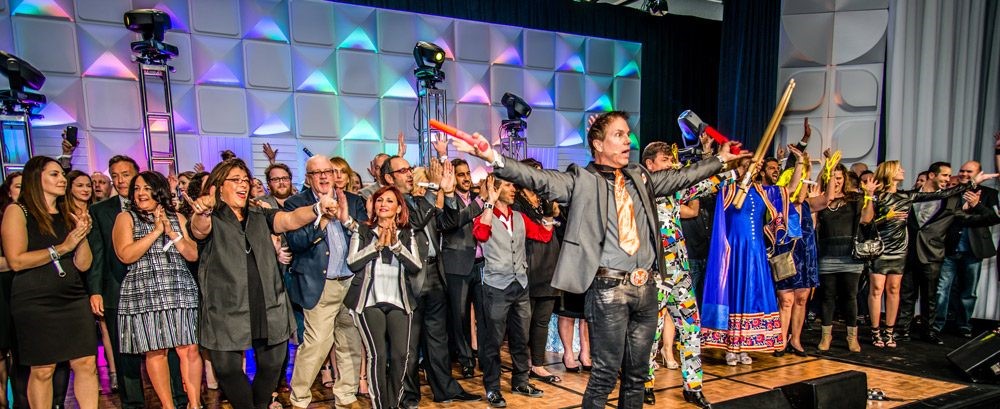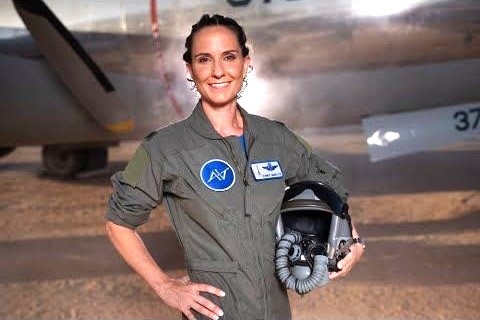 Tammy Barlette is a fighter pilot who served in the U.S. Air Force for over 20 years, retiring in 2018 as a Lieutenant Colonel. She has flown multiple aircraft, to include the T-37 Tweet, T-38 Talon, A-10 Warthog, MQ-1 Predator and MQ-9 Reaper, accumulating more than 3000 total flying hours and over 1500 hours of combat support time assisting and protecting troops on the ground in both Iraq and Afghanistan. She is also a graduate of the prestigious US Air Force Weapons School and has a Master of Arts in Christian Ministry.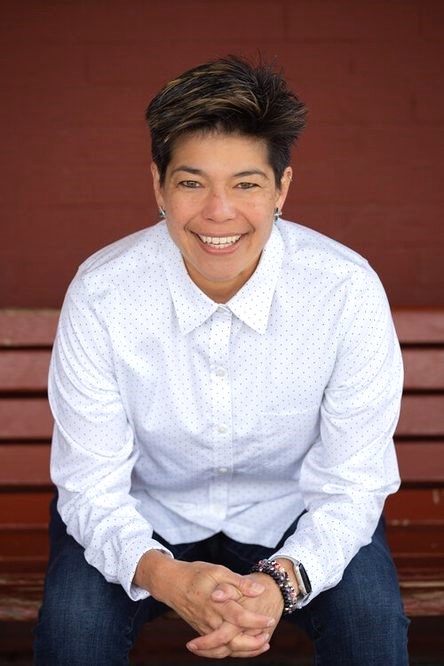 Mo Barrett is a catalytic comedian prioritizing laughter, leaning and thinking (in that order). Retiring as a Colonel after 25 years in the Air Force, Mo ascended as a multi-minority in an organization that didn't always welcome her openly. She rises above any one label, knowing her value is in the unique perspective she provides. Mo capitalizes on the magic in the mundane and leverages the lessons hiding in plain sight.
Mo graduated from the US Air Force Academy and piloted multiple aircraft including the T-37, T-1A, C-27 and C-5, and deployed to austere fields to establish airlift hubs from bare base conditions. Her mission in life is using comedy to create change through her energetic and unique presentation style, whether during a keynote, workshop or as an emcee.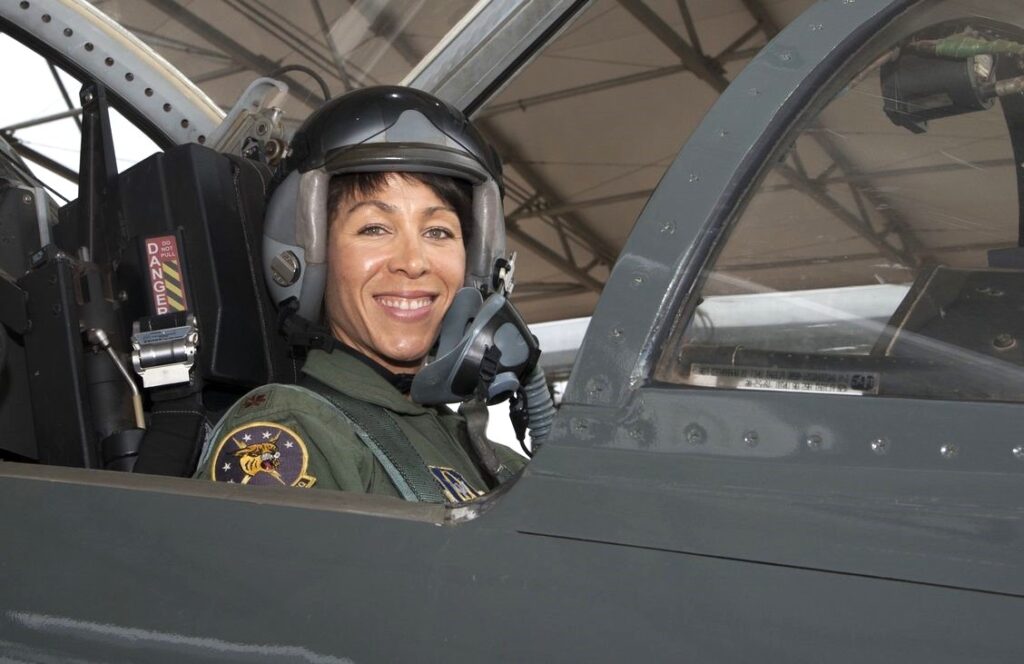 Christina Hopper is a courage, resilience and growth mindset teacher who blends her unique psychology and teaching background with diverse life experiences that show you how to move from trauma and failure to victory. As a Lieutenant Colonel in the Air Force, a decorated combat veteran and one of the first Black female fighter pilots, Christina has overcome multiple challenges on the military and leadership battlefields.
Christina is a former Air Force F-16 combat and instructor pilot, current Air Force Reserve T-38 evaluator pilot, and First Officer at Delta Air Lines. She has more than 2,500 hours in fighter and trainer aircraft and currently trains the next generation of fighter and bomber pilots.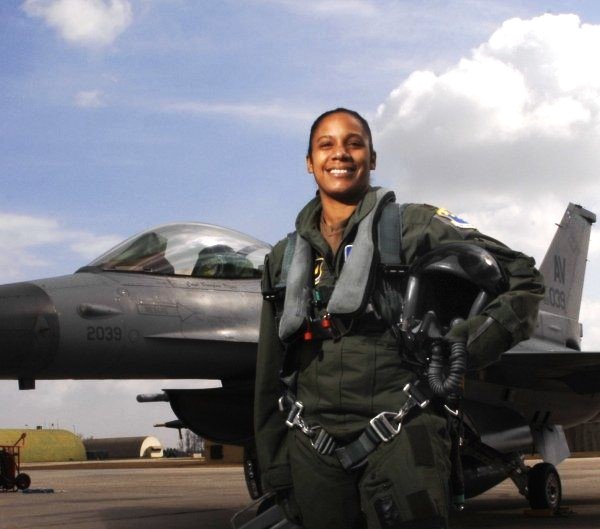 Lt. Col. Rochelle Kimbrell, (retired) U.S. Air Force, is a charismatic trailblazer whose road to becoming the US military's first Black female fighter pilot started when she was a little girl growing up in Parker, Colorado. She had a dream that was beyond the imagination of most. In a time before women were allowed to fly fighter aircraft and women being in combat was literally against the law, those boundaries were no deterrent for Rochelle.
Rochelle not only broke several glass ceilings in the F-16 community, her experiences transformed into operations on the ground and then on to the highly technological remotely piloted aircraft. Rochelle has over 2100 hours piloting military aircraft and over 975 combat and combat support hours.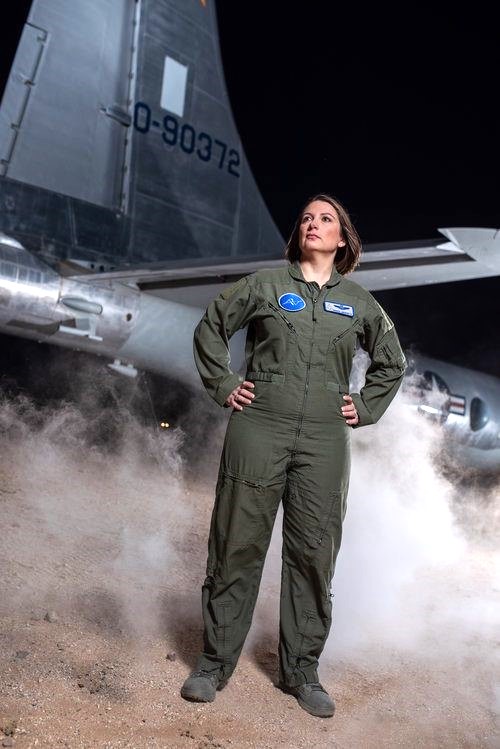 Shelly "Gringa" Mendieta began her journey of service in Air Force ROTC at the University of Texas. Her goal was to earn her commission and become a flight surgeon, but when the opportunity to fly fighter aircraft opened to women, her objective shifted on this new challenge.
Gringa graduated Joint Undergraduate Navigator Training at Naval Air Station Pensacola where she flew the T-23, T-1 and T-39. As a Weapons Systems Officer in the F-15E, she was assigned to the 335th Fighter Squadron and deployed to Operation Southern Watch and twice to Operations Iraqi Freedom and Enduring Freedom, supporting both Special Operations Forces and precision strikes.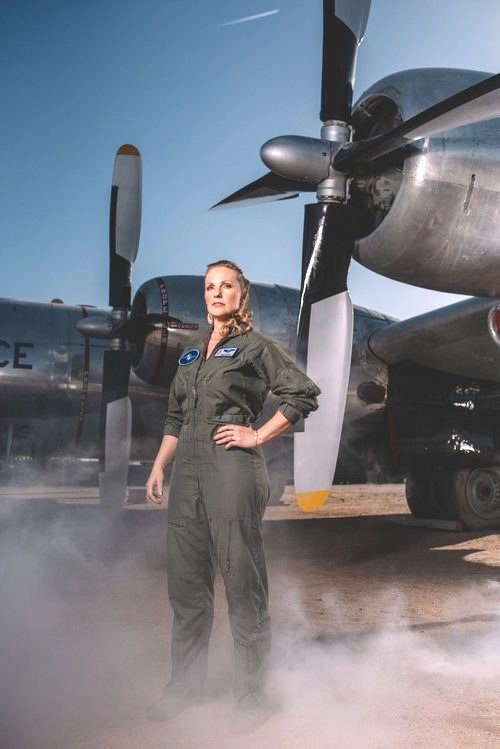 Vanessa "Siren" Mahan is a Lieutenant Colonel in the United States Air Force Reserve with 20+ years of military leadership experience and a combat veteran with over 100 combat missions in the F-15E Strike Eagle supporting Operation ENDURING FREEDOM.
As a Distinguished Graduate from AFROTC at Purdue University, she attended Joint Strike Navigator Training at Naval Air Station Pensacola, where a Military Sexual Trauma (MST) nearly destroyed her before her career could even takeoff. But reaching her goal of protecting troops and civilians by flying in combat in a post 9/11 world, helped her overcome the MST and other obstacles. She is a champion of diversity and inclusion, on a mission to inspire people and businesses by sharing her story with conviction, humor, and sincerity.
NOW IS THE PERFECT TIME TO HIRE YOUR 2023 ENTERTAINMENT !
Forget the COVID days. Entertainers are booking strong for 2023. We are seeing bookings as far out as October and December 2023 already.
Progressive Event Planners are getting their dates filled earlier, We encourage you to do the same. For Touring groups it is essential to act quickly so they can build your event date into their tour schedule.
---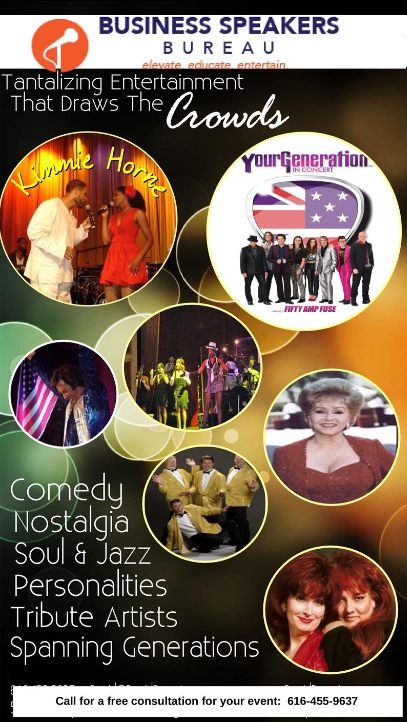 Not sure what you want?
We provide free consultation and will help you decide what will work for your function, budget, and attendees. And, we do all the legwork to secure the talent you want.
If you are running late planning, call us now!! With over 25 years in the business . . we have the connections to get you the best talent for your event!
What will 2023 look like for Business?
Mid-term elections are now history and not much changed on the political front.
The Stock Market rallied slightly but still shaky, and rising interest rates.
Employers still can't get enough workers, but big tech is laying off.
Supply chains are filling and with hopes they could be stable soon.
What will the next Presidential election do to our economy?
What does 2023 look like for your industry, your business? Are you prepared?
---
These EXPERTS can help you see where we are going and how to be at the top!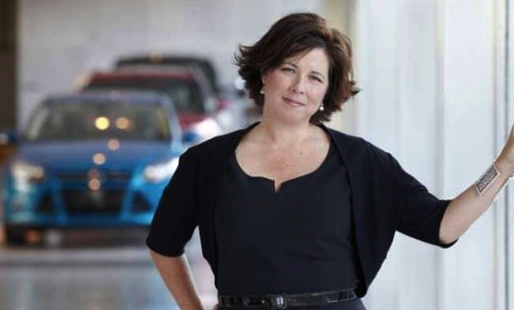 Andrew Bush – the Economy and Politics (Impact of the 2024 elections)
Jim Carroll – Futurist
Billy Conerly – Economist
Ken Gronbach – Futurist/ Demographer
Sheryl Connelly – Futurist (former Ford Motor Company Futurist)
ACT NOW to schedule one of these Experts for a consult and book them for your conference keynote.
---
New Things Are Happening at
Business Speakers Bureau!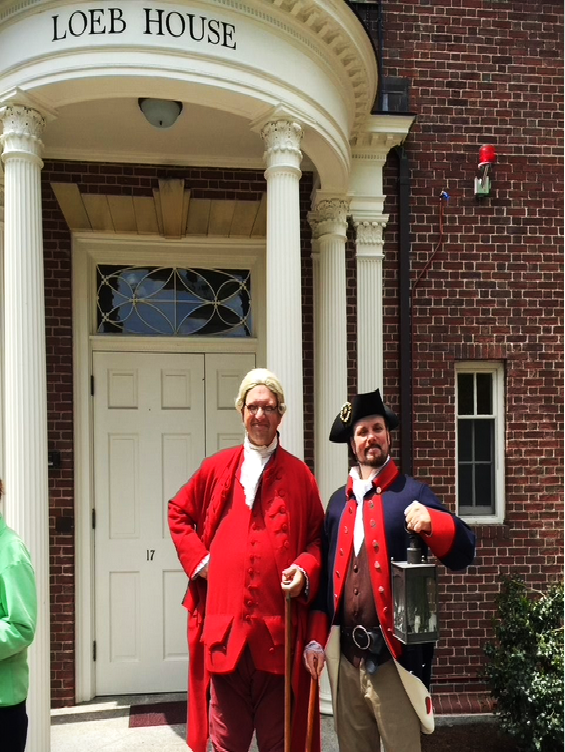 These speakers present a first-person account of a famous person from history. Characters such as: Betsy Ross, Eleanor Roosevelt, Paul Revere, John Adams, Abigale Adams, Betsy Ross, Helen Keller, Susan B. Anthony, Ruth Bader Ginsburg, Amelia Erhardt, Christa McAuliffe, Princess Diana….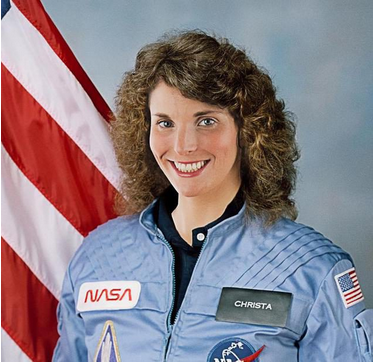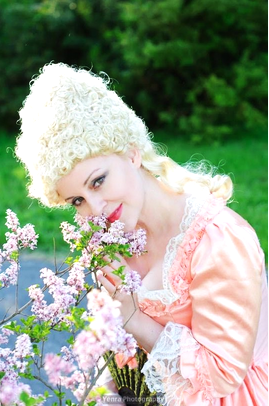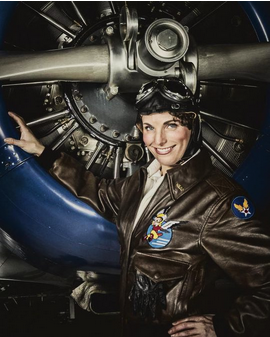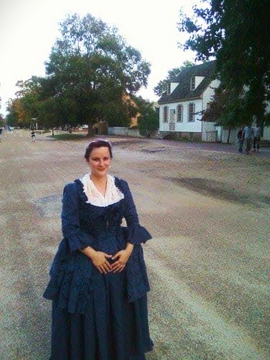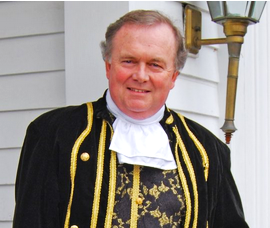 Each live performance is conducted in authentic period attire, with vintage props, and professionally designed sets. Based on primary source research, each presentation has been embraced by the historical, educational, and theatrical industries with high-caliber programs, offering a once-in-a-lifetime opportunity to ask questions of influential and often forgotten historic figures.
These live historical performances are entertaining and educational, and they also help audiences truly understand the profound positive impact these men and women have made in history. Shows range from about 35 – 50 minutes with 10 minutes of Questions and Answers.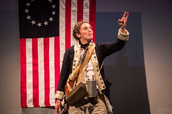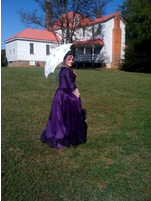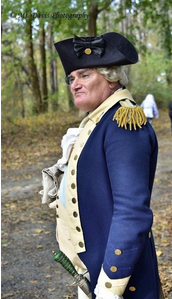 These are wonderful Enrichment Programs! For example, Diversity and Inclusion, learning with disabilities, bullying, acceptance, helping one another, empowerment, biographies, character development, and more. Characters use props, costumes and various forms of media, to create a truly memorable historical performance.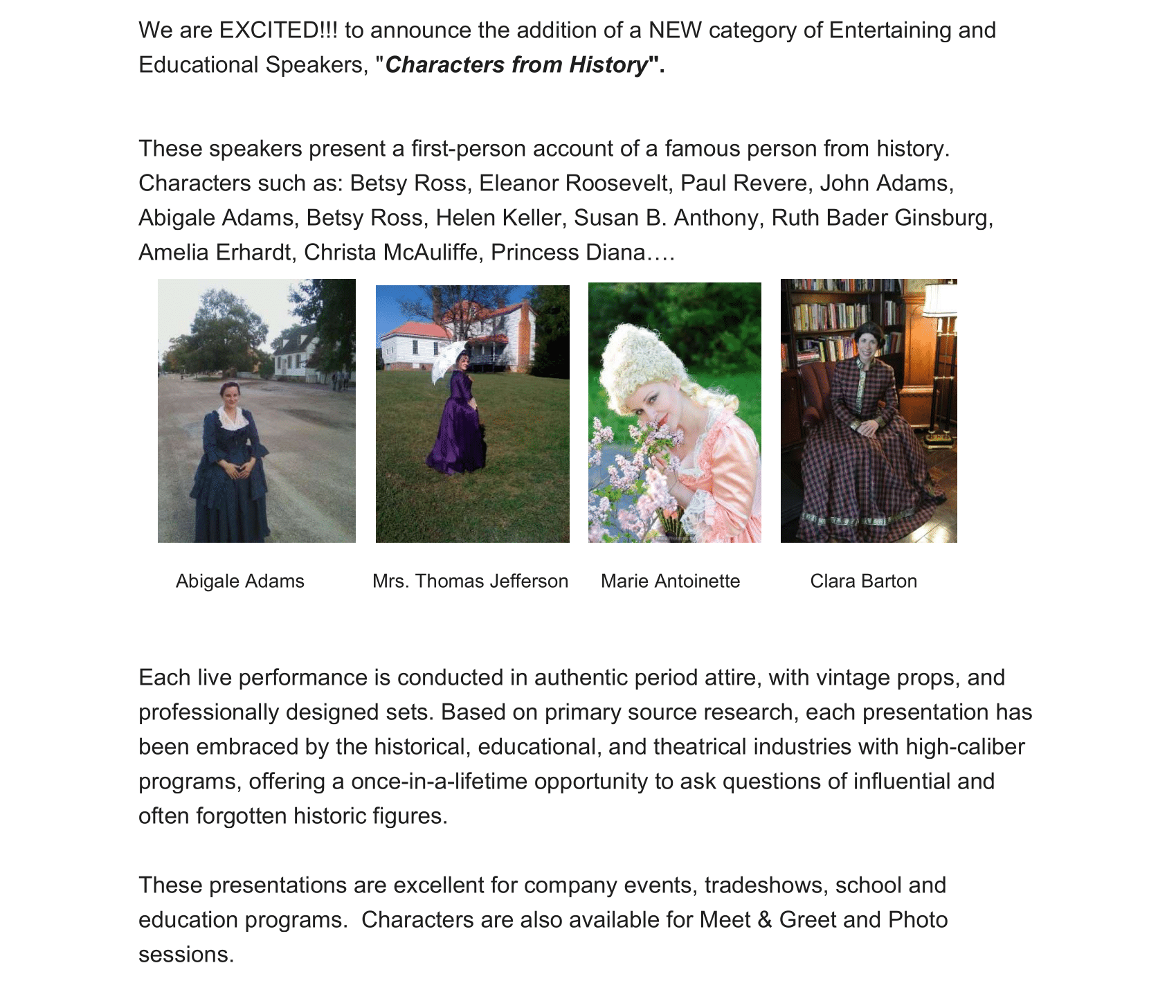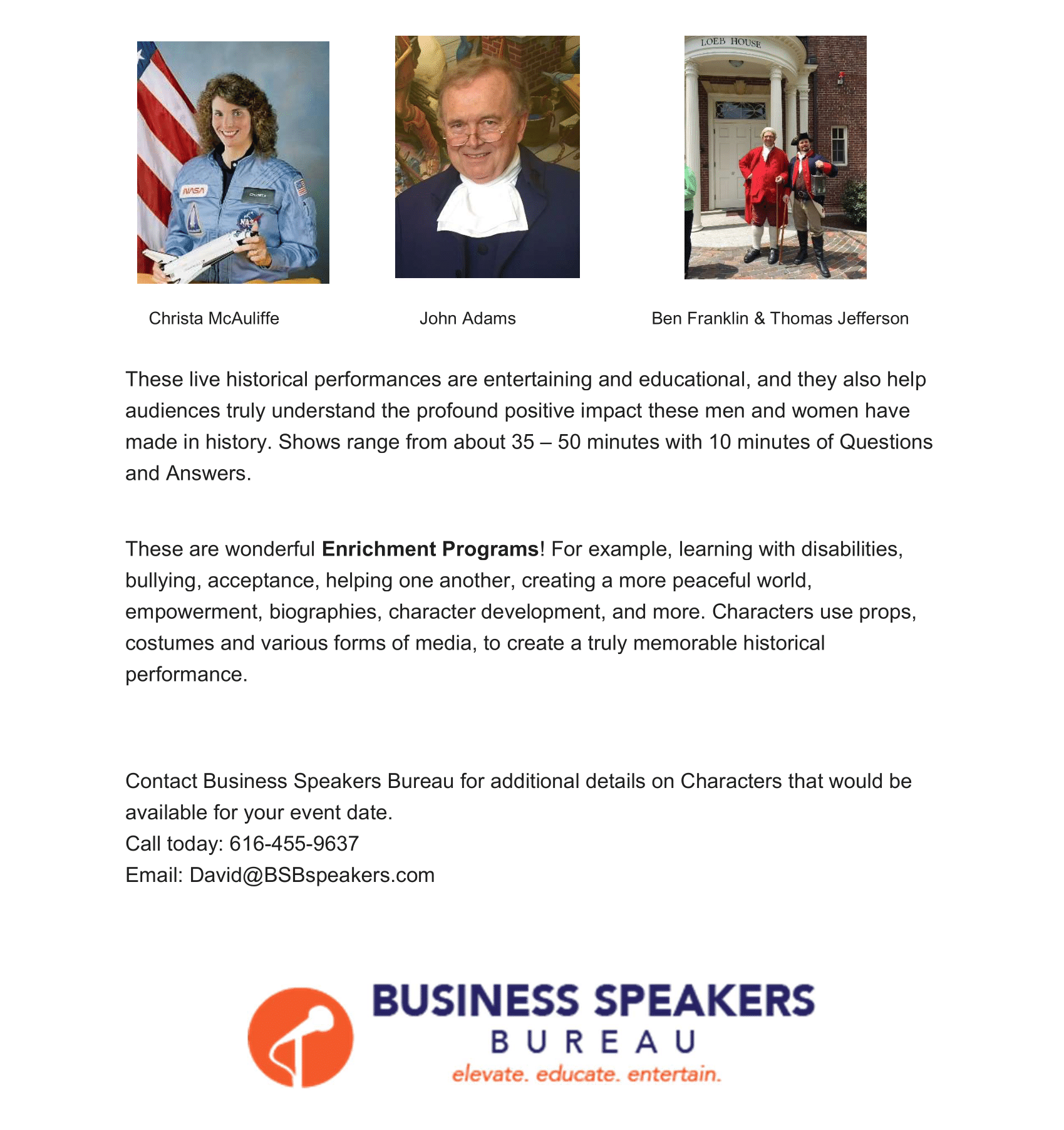 Since 1996, the Business Speakers Bureau has exceeded expectations by providing you with the right speaker, the right message and the right entertainer for your event. All while offering you Logistics Management, Diversity, Equity & Inclusion.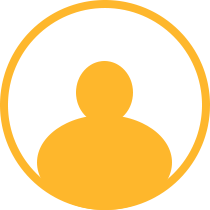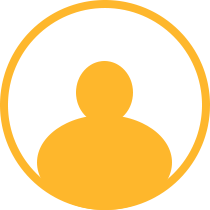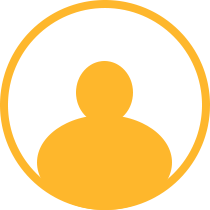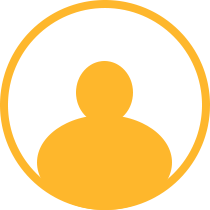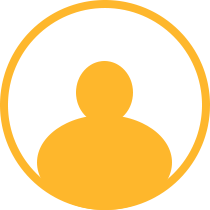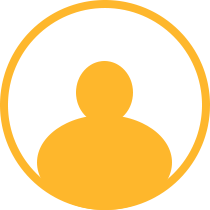 Stand Out, Motivate, Succeed
It's always an honor to work with you; and I so appreciate how seamless and easy you make the process of securing top notch speakers for us! Thank you!!!!
Without your assistance we could not have acquired a speaker such as Dave Ziko, and our mentoring event would not have had the impact it did. You were kind and worked with me to find a speaker that was affordable and suitable.  Thank you for your benevolence toward us.
"I've contracted with Business Speakers Bureau for speakers and entertainment for our association conferences. David listens really well to the needs of the event. He listens to the specific needs of each event and somehow always finds just the right speaker or entertainment. He has always exceeded expectations while staying within our budget. He makes event planning much easier. I will continue to work with Business Speakers Bureau for our future events and strongly recommend their services."
"Thank you! Appreciate how easy you make this process!"
I truly enjoy working with you and your Agency….nothing but a quality and rewarding experience!
Cheers!
David, you are always such a warm and gracious host, you set the Bar very high for your competition!  All the best on your new venture and added services, I know it will add to your service mix and differentiation as another way to be a "Partner of Impact."
Cheers!